THE DAILY DOMINATION JOURNAL
Get more done in one day than a typical week.
Get more done in 4 weeks than a typical year.
Get started today.
The foundation for success
Human beings are purpose driven. Use the tools in
THE DAILY DOMINATION JOURNAL 
to discover your purpose.
Without vision, there is no guidance. The worksheets in this journal will help you set the stage for your success.
Learn how to set your monthly, weekly, and daily goals and exactly how to achieve them — day by day.
What
is
THE DAILY DOMINATION JOURNAL
?
Change Your Life in 28 Days
THE DAILY DOMINATION JOURNAL
 takes you through a 28-day process with
worksheets
and
templates
to help you define your purpose, vision, goals, structure your day, review your week and month, and dominate.
This isn't another 'feel good' journal.
This is a 28-day workbook that turns you into an achievement machine.
SUPERCHARGE YOUR PRODUCTIVITY – EVERY DAY
The worksheets in this journal will help you find where you are wasting time, what you are working on that you shouldn't be, and how to choose what tasks really matter.
MAKE ONE DAY MORE EFFECTIVE THAN A WEEK
The Daily Domination Journal will enable you to get more done in a day than a typical week and more done in a month than a typical year. Systematic effectiveness.
TEMPLATES AND WORKSHEETS TO DRIVE SUCCESS
Daily, weekly and monthly templates and worksheets to provide you with structure that gets you organized and focused on what really needs to get done.
ACTION BASED WAYS TO MOVE THE NEEDLE FORWARD
Get out of your rut. Use this journal to shape your actions and effortlessly reach goals you never thought were possible, month after month.
What's
inside
THE DAILY DOMINATION JOURNAL
?
160+ pages of instructions, templates, worksheets, and free space for notes
Here is a glance at what you'll find inside:
BUILD NEW ROUTINES AND HABITS
You can't directly change your circumstances. You access those through your daily routines and habits. Habits and routines when performed day in and day out are what make or break you. Use the templates provided to easily create new routines and habits.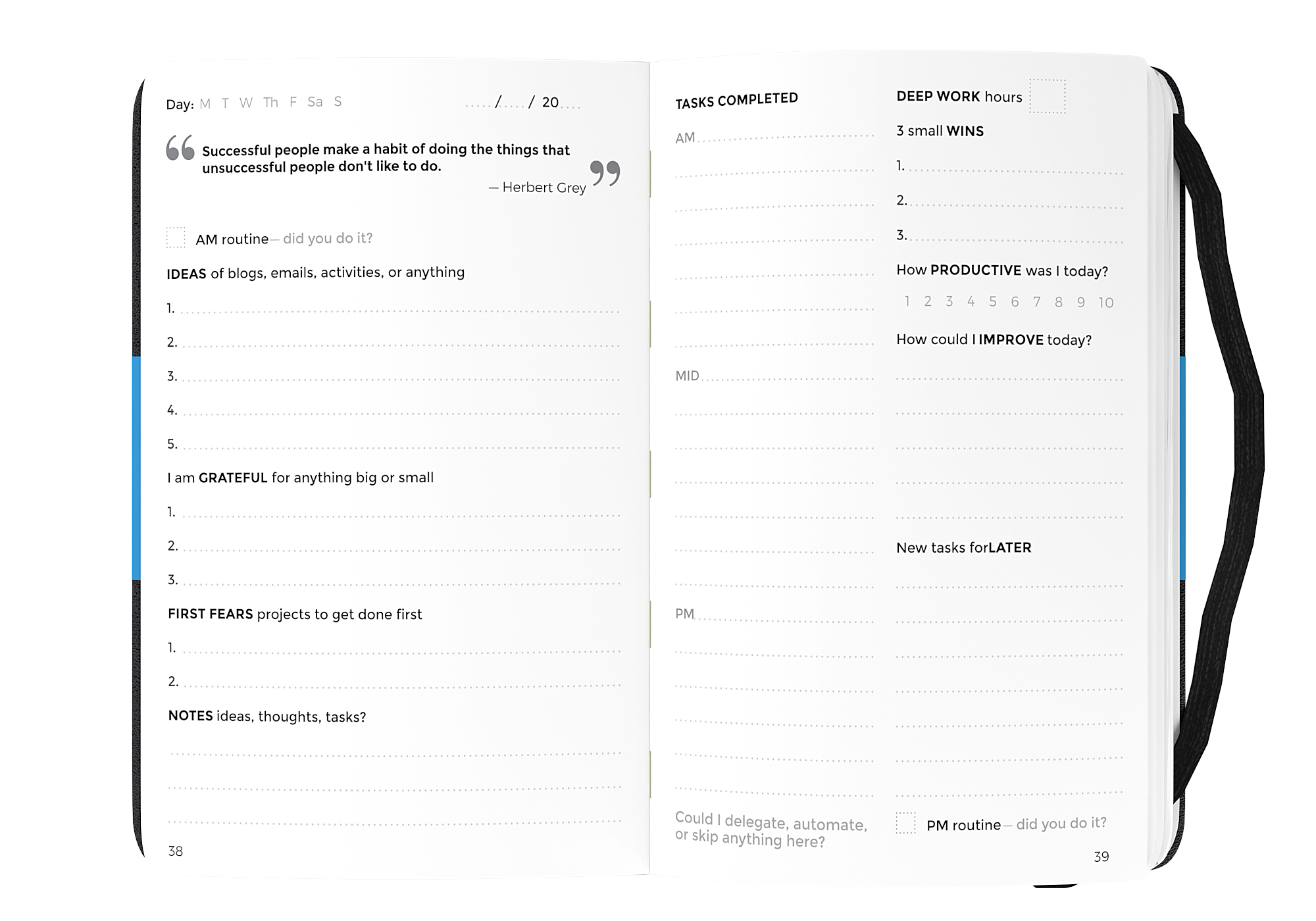 The daily domination pages are what you'll see the most throughout this book. Each day follows the pictured template. We generate ideas, get the mind clear, and tackle the most important tasks for the day. At the end of each day is a place to reflect on how you spent your time, how effective you were, and how you can improve.
Who is the 
THE DAILY DOMINATION JOURNAL
for
?
Bogged down with clinic, labs, classes, studying, thinking about boards, all while trying to live life?
Use the DDJ to clear up priorities, know when to study for what, see what is important, and eliminate the overwhelming grad school stress.
Seeing patients, doing your marketing, managing staff and have no minutes left in the day?
Use the DDJ to structure the highest priority tasks and eliminate what doesn't matter so you can help more patients and make more money.
Too busy running classes, writing programming, and doing outreach to actually grow the business?
Use the DDJ to streamline tasks and generate more passive income so you can scale up and get more people fit, all with less time.
ANYONE WHO GETS THINGS DONE
Are you person who has an infinitely long to-do list and wish you had more time to complete tasks and projects?
Use the DDJ to create structure and optimize actions so you can get more done in less time.
Order your copy of

THE DAILY DOMINATION JOURNAL

today 
Let's get after it!